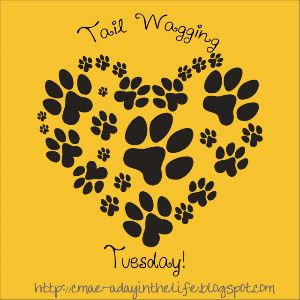 I'm linking up with little Ms. CMae and Aspen over at
Live What You Love
for her fabulous dog focused Tuesday. I always love a chance to put Roman Noodle in the spotlight, and yes, someone asked last week, I do have two dogs, but one is afraid of the camera so for the most part Super takes a backseat during Tail Wagging Tuesdays.
This weeks theme is where our dogs sleep--for Roman who spends a good 90% of his life sleeping that is an easy one and I decided it would be more fun for me to just illustrate this in pics. Enjoy. :)
The Nood always sleeps in the car, he doesn't discriminate as to where--as long as his Mama or Papa is in the car, he can sleep.
He has to make sure he can sniff any imposing danger!
He can sleep at the doggie park.
You can all see that he is such an excellent help with the laundry. ;)
Roman can occasionally be found sleeping perched up on a pillow.
He has to have a bed in the kitchen where he can keep a close eye on his mama cooking and he can also be found here praying to the food Gods for them to have our magical kitchen floors produce a crumb or two!
Especially if I am at work you can find Nood snuggled up next to his Papa watching a Gator game.
And for a little extra warmth Roman can be found snuggled up to a kitty sibling.
But more than likely, our sweet boy can be found sleeping under a blanket!
I hope you all enjoyed a tour of what a hard time Roman has finding a perfect place to take a little nappy poo.